Experience the OxyGeneo™ Super Facial!
Visage OxyGeneo Super Facial
This signature OxyGeneo facial is an advanced treatment that will exfoliate the outer layer of the skin, infuse a unique revitalizing formula, and oxygenate the skin from within. The OxyGeneo treatment provides all the benefits of microdermabrasion + chemical peel + oxygenating facials in one pleasant treatment.  The treatment begins with an eye lift using the TriPollar RF. You will feel immediate tightening of the eye area.
The Oxygeneo portion of the facial is next and once the revitalizing gel has been infused into the skin using ultrasound to increase the permeability, a customized mask is applied, and relaxing massage of the neck, shoulders, hands and arms begins. When the mask is removed the facial is completed with the application of treatment cream or gel for the face and eye area.  Then Visage de Layla Micro Mineral SPF 25 will be applied, providing dewy coverage and sun protection and you'll leave feeling refreshed and glowing with skin that is visibly brighter and smoother.
$150 on its own 30 Minutes
$250 with the addition of the TriPollar hand piece 60 Minutes
$300 with the addition of both the TriPollar and the ultrasound hand piece 75 Minutes
The OxyGeneo Series
Prepay 5 OxyGeneo Facial treatments and the 6th one is FREE.  This option is a great value.
Please note one series per person will be allowed.
To Book Your Appointment Call
1-310-310-9640
Experience the 3-in-1 super facial professionals
are calling better than Microderm!
3-in-1 Therapy. Better Results.
What makes OxyGeneo™ the new super-facial? Get the exfoliation benefits of microdermabrasion plus deep facial rejuvenation with the infusion of essential revitalizing nutrients and healing skin oxygenation from within. OxyGeneo™ treatments are suitable for all skin types – any ethnicity and pigmentation, sensitive skin, and even for those who keloid (scar) and couldn't otherwise have abrasion treatments.
Exfoliate. Infuse. Oxygenate.
Breakthrough OxyGeneo™ Technology provides superior anti-aging results by treating the skin at a deeper level. Exfoliate, Infuse, and Oxygenate your way to youthful skin.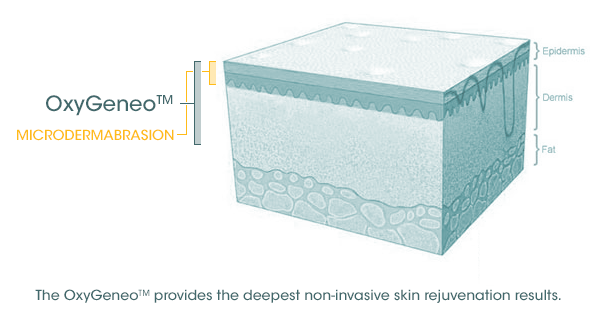 "Better than Microdermabrasion"
Find out why professionals are calling the OxyGeneo™ Facial "better than microdermabrasion".
Skin Plumping & Hydrating
Restored Skin Volume
Renewed Youthful Glow
Increased Collagen
Reduced hyper-pigmentation
Improved Skin Cell Production
Reduce Appearance of Wrinkles
Safe for ANY skin type!